Earlier this month, realtor.com announced the release of their initial Housing Recovery Index, a weekly guide showing how the pandemic has impacted the residential real estate market. The index leverages a weighted average of four key components of the housing industry, tracking each of the following:
Housing Demand – Growth in online search activity
Home Price – Growth in asking prices
Housing Supply – Growth of new listings
Pace of Sales – Difference in time-on-market
The index then compares the current status "to the last week of January 2020 market trend, as a baseline for pre-COVID market growth. The overall index is set to 100 in this baseline period. The higher a market's index value, the higher its recovery and vice versa."
The graph below charts the index by showing how the real estate market started out strong in early 2020, and then dropped dramatically at the beginning of March when the pandemic paused the economy. It also shows the strength of the recovery since the beginning of May.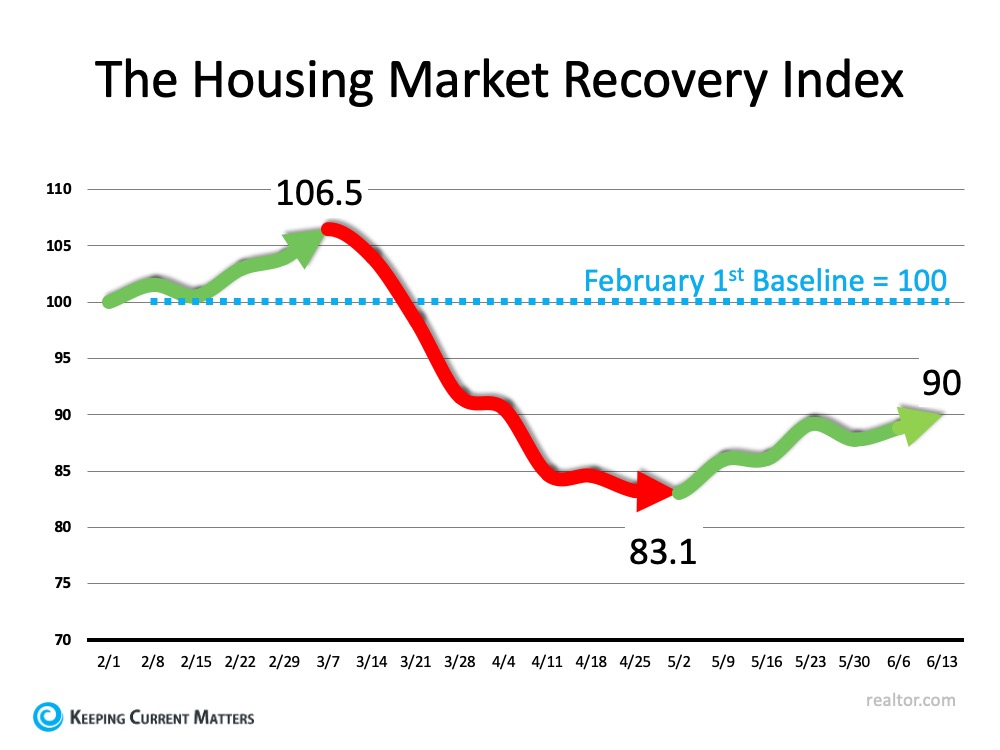 It's clear to see that the housing market is showing promising signs of recovery from the deep economic cuts we experienced earlier this spring. As noted by Dean Mon, Chairman of the National Association of Home Builders (NAHB):
"As the nation reopened, housing has been well-positioned to lead the economy forward." The data today indicates the housing market is already on the way up.
In addition to the incredible news regarding the housing market being a pivotal part of our nation's economic recovery, a recent Gallup Survey concluded that Real Estate is the BEST Long-Term Investment for Americans looking to invest in their future.
Respondents are asked to select real estate, stocks/mutual funds, gold, savings accounts/CDs, or bonds, as their choice for the best investment option. For the seventh year in a row, real estate has come out on top as the best long-term investment. Gallup explained:
"Real estate remains the most favored investment to Americans, as has been the case since 2013, when the housing market was on the rebound. More than a third of Americans have named real estate as the top investment since 2016."
This year's results indicated 35% of Americans chose real estate, followed by stocks at 21%. The full results covering the last decade are shown in the chart below:
Bottom Line
The belief of the American people in the stability of housing as a long-term investment remains strong, despite the many challenges our economy faces today. And considering that Real Estate has been leading the way back to economic stability & interest rates are still at near historic lows, it is very clear that now is the perfect time to Buy, Sell (or maybe both) Real Estate.
Contact me today for more information on how you can benefit from the current market conditions. (989) 429-1057