Homeownership is one of the best ways to invest in your financial future, especially as your home equity grows. Home equity is a form of forced savings that can work to your advantage as the value of your home appreciates. Across the country, home equity was increasing before the health crisis swept our nation, and it continues to grow throughout the year, giving sellers powerful options in this market.
According to the just-released Q2 Homeowner Equity Insights Report by CoreLogic:
"U.S. homeowners with mortgages (roughly 63% of all properties) have seen their equity increase by a total of nearly $620 billion since the second quarter of 2019, an increase of 6.6%, year over year."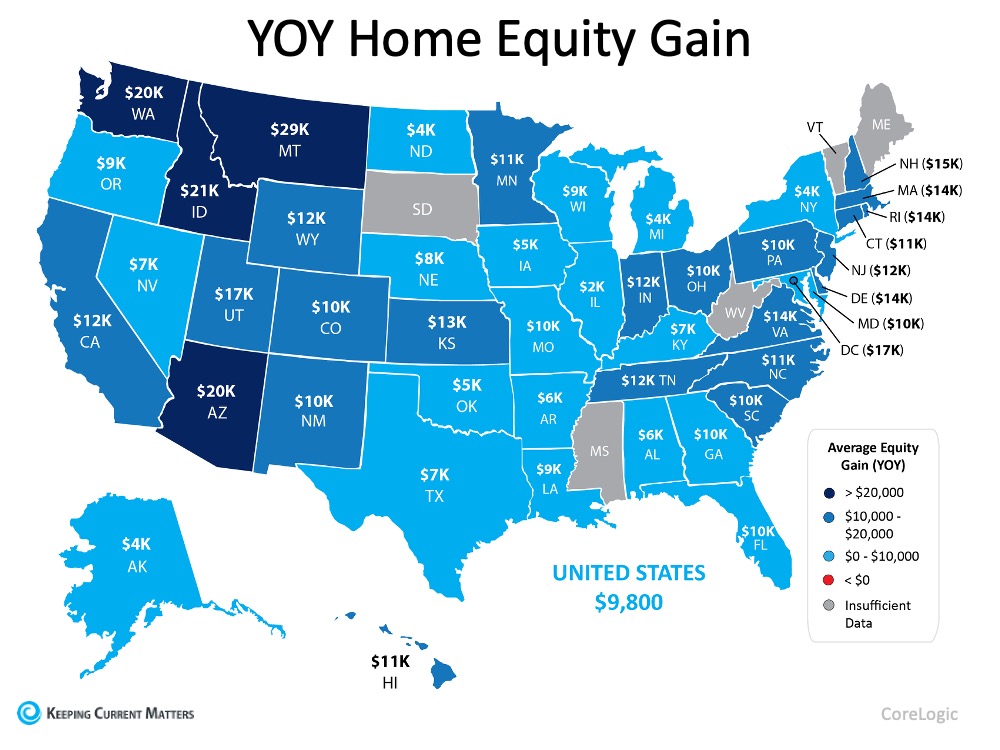 What Does This Mean for Sellers?
When equity is rising, as it is today, you may have more invested in your home than you realize. Mark Fleming, Chief Economist at First American, notes:
"As homeowners gain equity in their homes, they are more likely to consider using that equity to purchase a larger or more attractive home – the wealth effect of rising equity. In today's housing market, fast rising demand against the limited supply of homes for sale has resulted in continued house price appreciation."
If you've been considering making a move – whether that's to get into a bigger home or to downsize to a smaller one – it's a great time to reach out to a real estate professional to learn how to put your equity to work for you. You may be in a position to pay that equity forward toward your next home purchase and afford it sooner rather than later.
And if that isn't enough to convince you that now is the perfect time to sell.
Check out these 4 reasons why now is the perfect time to sell!
1. Buyers Are Actively in the Market
ShowingTime, a leading real estate showing software and market stat service provider, just reported that buyer traffic jumped 60.7% compared to this time last year. That's a huge increase.
It's clear that buyers are ready, willing, and able to purchase – and they're in the market right now. In many regions of the country, multiple buyers are entering bidding wars to compete for the home they want. Take advantage of the buyer activity currently in the market so you can sell your house in the most favorable terms.
2. There Are Not Enough Homes for Sale
In the latest Existing Home Sales Report, the National Association of Realtors (NAR) announced that there were only 1.49 million units available for sale. That number was down 18.6% from one year ago. This means in the majority of the country, there aren't enough homes for sale to satisfy the number of buyers.
Due to the health crisis, many homeowners were reluctant to list their homes earlier this year. That will change as the economy continues to recover. The choices buyers have will increase going into the new year. Don't wait until additional sellers come to market before you decide to make a move.
3. The Process Is Going Quickly
Today's ultra-competitive environment has forced buyers to do all they can to stand out from the crowd, including getting pre-approved for their mortgage financing. This makes the entire selling process much faster and simpler, as buyers know exactly what they can afford before shopping for a home. According to the latest Origination Insights Report from Ellie Mae, the time needed to close a loan is just 49 days.
4. There May Never Be a More Important Time to Move
You've likely spent much of the last six months in your current home. Perhaps you now realize how small it is, and you need more space. If you're working from home, your children are doing virtual school, or you just need more space, your current floor plan may not work for your family's changing needs.
Bottom Line
The housing market is prime for sellers right now, so let's connect to get the process started this fall. If the timing is right for you and your family, the market is calling your name.
Let's chat about your real estate needs today!